Collected Newspaper and Magazine Writing of Helen Keller
Edited by Beth A. Haller, Ph.D.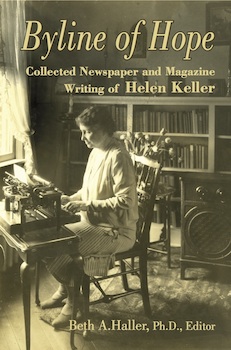 In Byline of Hope, Towson University journalism professor Beth A. Haller has collected Helen Keller's writing for newspapers and magazines — articles for Good Housekeeping, Ladies Home Journal, The Atlantic Monthly, The New York Times and The Home Magazine — many of them never before reprinted until now. With introductory chapters and analysis.
Keller's "was the perfect message for the 20th century…that positive social change could occur."

335 pp. Softcover.
$19.95
ISBN: 978-0-9627064-1-7
Copyright 2015
Now available for purchase at Amazon – Paperback / Kindle editions.