The Disability Experience from the Pages of the First Fifteen Years of The Disability Rag.
Anthology edited by Barrett Shaw.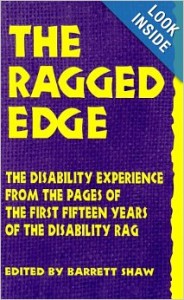 "The Disability Rag is the voice of a mighty revolution, and this stunning collection from its first 15 years will become an invaluable primer for anyone who wants to understand the new thinking of the disability rights movement. Here are the urgent, spirited and provocative stories that have changed the way people — disabled and nondisabled — have come to view what it means to have a disability."
–Joseph. P. Shapiro, National Public Radio, author of No Pity: People with Disabilities Forging a New Civil Rights Movement.
"Reading The Ragged Edge [anthology] is like sitting in on a vigorous, sometimes funny, and often irreverent roundtable discussion of the issues that most concern all humanity, disabled and nondisabled, whether they admit it or not. Some of the voices are reflective, some sad, some furious, but none will lull you to sleep. On the contrary, you'll feel ready to roll on out and transform the world."SW
— Nancy Mairs, author of Plaintext, Carnal Acts, Ordinary Time and Waist High In the World
238 pp. Paperback. | ASCII Diskette.
$18.95
ISBN 0962706450 | Copyright 1994
Paperback (order online) | Kindle | ePub
TABLE OF CONTENTS
Introduction … page ix
PREFACE:
Why We Do What We Do … page xiii
Cass Irvin
COMING TOGETHER
Aphasia … page 1
Seeking the Disabled Community … page 4
Edward L. Hooper
Like Squabbling Cubs … page 7
Mary Jane Owen
Malcolm Teaches Us, Too … page 11
Marta Russell
Disability Culture Rap … page 15
Cheryl Marie Wade
IMAGE AND IMAGES
Survivor … page 19
S. L. Rosen
Thoughts on Thinking Differently … page 22
Tanis Doe
Boutonnieres … page 25
John R. Woodward
Toward a Theory of Radical Disability
Photography … page 28
Anne Finger
Giving It Back … page 34
Cris Matthews
Questioning Continuum … page 42
Carol J. Gill
THIS IS OPPRESSION
The First Taste … page 50
Cass Irvin
The Room of Pain and Loneliness … page 53
Edward L. Hooper
Disconfirmation… page 57
Billy Golfus
Cowboy Justice in Tiburon… page 64
Arthur Jacobs
Hate … page 67
Barbara Faye Waxman
PRIVATE MATTERS
Public Stripping … page 73
Lisa Blumberg
New Insights … page 78
Edward L. Hooper
It's Time to Politicize Our Sexual Oppression … page 82
Barbara Faye Waxman
It Ain't Exactly Sexy … page 88
Cheryl Marie Wade
POEMS
Excavation … page 91
Kenny Fries
Lunch Break … page 96
Laura Hershey
Reconciliation … page 98
Cheryl Marie Wade
Reading Braille … page 100
Mary McGinnis
White Caps … page 102
Margaret Robison
Thanksgiving Day Feast … page 103
Susan McBride
Travelling… page 104
Katherine Simpson
Like Walking on the Moon… page 108
Nancy Scott
Now and Then Again … page 109
Susan Hansell
Trajectories … page 112
Brian Hartshorn
Becoming Beautiful … page 114
Nancy Bigelow Clark
THE PITY PLOY
And the Greatest of These Is Charity … page 115
Anne Finger
A Test of Wills: Jerry Lewis, Jerry's Orphans and the Telethon … page 120
Mary Johnson
Time to Grow Up … page 131
Julie Shaw Cole and Mary Johnson
ADAPTABILITY AND OTHER ACTIONS
On the Barricades with ADAPT (read excerpt) … page 137
Mary Johnson
Wade Blank's Liberated Community … page 149
Laura Hershey
The Power of One Person … page 156
Mary Johnson
ARE WE BEING SERVED?
The Do-gooder … page 165
Billy Golfus
Why the Nation Doesn't Have Attendant Services … page 173
Mary Johnson
Auschwitz on Sesame Street … page 178
Lucy Gwin
LIFE AND DEATH
Unanswered Questions … page 186
Mary Johnson
Suicide: Political or Personal … page 202
Julie Reiskin
Silence on the Psychiatric Holocast … page 208
Steve Mendelsohn
Springtime for Hitler … page 212
Kathi Wolfe
Eugenics and Reproductive Choice … page 218
Lisa Blumberg
It Can Happen Here … page 230
John R. Woodward
NOTES ON CONTRIBUTORS … page 236
238 pp. Paperback. | Kindle | ePub
$18.95
ISBN 0962706450 | Copyright 1994
Paperback (order online) | Kindle | ePub